Niche Living for Hippies, Academics, and More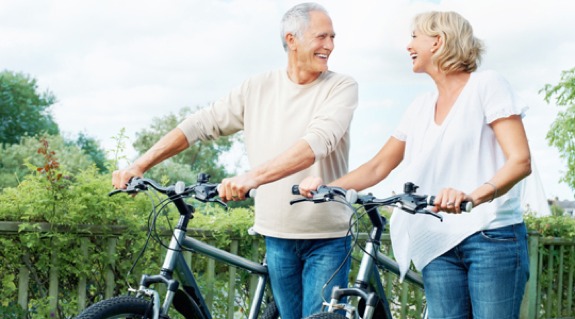 Q. I recently organized a BBQ for my cousin Mark and his wife Elizabeth, who are retiring and moving in the Fall. As I was flipping zucchini on the grill, I heard them talk about the community they will be moving to, and trust me, it doesn't sound like your typical senior community.
Mark and Elizabeth are unlike many people I know in their early 60′s, in that they are extremely fit and active. They found a community for active seniors like themselves. This makes me wonder. My wife and I are around the same age as them, and are both into gardening and vegetarian living. What type of other niche communities are available for us and friends with varying interests?
A. Seventy-eight million baby boomers are in the process of retiring, which means that there will be a rising demand for quality housing for an aging population. And like your cousins, many retirees are looking to break away from what is "normal" when it comes to housing. Therefore, senior housing communities are changing to keep up with their residents, most of whom are not looking for the "same old" senior housing options.
Niche senior communities or affinity retirement communities are a growing trend among seniors who want to spend their retirement among like-minded individuals who share a particular chosen passion – from gardening to dance, from motorcycle enthusiasts to hippies.  The most successful niche retirement communities are the ones where the residents engage over shared interests, professions, or lifestyle. Many of the facilities offer physical therapy and other amenities to address residents' changing health needs as they get older. Below are some examples:
Art: In North Hollywood, California, the NoHo Senior Arts Colony offers residents a gallery, art and dance studios, a theater-style clubhouse, and numerous classes in art and other creative activities.
Health enthusiasts: At Fox Hill, in Bethesda, Maryland, residents can take advantage of a gym, a full-service spa, three health-conscious gourmet restaurants, an organic herb garden, an indoor golf range, a putting green, outdoor walking trails, water aerobics, personal training, a swimming pool with electronic lifts, and onsite physical therapy.
Country Music: In Franklin, Tennessee, the Crescendo at Westhaven is being built to offer activities designed to appeal to fans of country music or to country musicians who have retired. It will have a theater for live performances and a sound booth with recording capabilities.
Academics: University-based retirement communities (UBRCs) are available for residents who often have a university connection, such a retired professors. Residents can take college courses and participate in campus life. The Village at Penn State  is an example of a successful UBRC.
Aviators: Spruce Creek Fly-In is a community in Port Orange, Florida, just a few miles south of Daytona Beach. Built around a training facility used by the Navy in the mid-1970s, Spruce Creek was formed by a group of aviators from Atlanta and is home to retired pilots and others who enjoy flying.
Astronomy: Chiefland Astronomy Village in Chiefland, Florida is designed for astronomy enthusiasts. The village's skies aren't affected by light pollution as much as some other spots and nearly every home has a built-in telescope.
LGBT: Fountaingrove Lodge in Santa Rosa, California, offers community services and events that cater to the LGBT comunity.
Hippies: Rocinante community (no website) in Summertown, Tennessee, is designed for aging hippies. All residents have similar cabins and similar attitudes about nudity and toxin-free living, and they prefer to live in a low-impact, earthy manner, as many did in the 1960s.
For some Americans approaching retirement, choosing the right place to grow old is less about golf and weather than about finding neighbors who share their attitudes and interests.  Due to their popularity, housing experts say more niche communities are likely to make their way to market. However, niche senior communities are not for all retirees. Most seniors want to age in place — living in the same community where they have resided for many years — or at least in a community that is close to family. And most seniors don't want to live in a community with narrow interests.  Lastly, many seniors may not be active enough for these niche communities, and although they might like to find neighbors with shared interests, they may need more help than a niche community can provide. Even those who do choose a niche community in their 60s may eventually "age out" of these facilities due to health concerns and need to relocate to more traditional living options.  For other non-traditional housing options, please read our blog post, Non-Traditional Living Options for Seniors.
What happens when a niche community or other non-traditional living option is no longer enough to meet your needs? Nursing homes in Northern Virginia cost $10,000-$14,000 a month – a catastrophic expense for most families. So regardless of whether there is a village community or other alternative senior housing option in your area, it is always prudent to plan ahead in the event that assisted living or nursing home care is needed in the future.  Life Care Planning and Medicaid Asset Protection  is the process of protecting your assets from having to be needlessly "spent down" in connection with entry into a nursing home, while also helping ensure that you or your loved one get the best possible care and maintain the highest possible quality of life, whether at home, in an assisted living facility, or in a nursing home. Learn more at The Fairfax and Fredericksburg Virginia Elder Law Firm of Evan H. Farr, P.C. website, or by coming to one of our educational workshops.  Need asset protection or housing assistance now?  Call us to make an appointment for an introductory consultation:
703-691-1888 for Fairfax Medicaid Planning or anywhere else in Northern Virginia;

540-479-1435 for Fredericksburg Medicaid Planning or anywhere in Spotsylvania, Stafford, King George, Prince William, or other surrounding counties;

1-800-399-FARR for Medicaid Asset Protection anywhere in Virginia, DC, or Maryland.